Wall Murals
Decorate Your Walls with America's Waterways
Looking for a design solution that makes a statement for your home or business? Our nautical charts provide an eye-catching backdrop for any space. Transform a powder room, update a break room, or create a stunning office. The design possibilities are virtually endless, and our instructions will make installation easy!
Durable, tear-resistant
Made from woven fabric
Easy to install
Adhesive backing
Create your custom nautical chart wall mural in three simple steps!
Get started on your design below.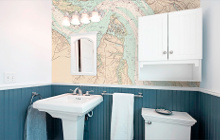 Step 1 of 3: Select Your Mural
Click an area on the map to search for your chart
Select Region and
See List Below
Atlantic Coast
Gulf Coast
Pacific Coast
Alaska Coast
Great Lakes


If this text continues to show, your browser is not capable of displaying the maps.