Wall Murals
Because wall murals are customizable, viewing this option on a mobile device is difficult due to its nature. Wall murals are best purchased via a desktop.
Give your walls some love
The perfect addition to any room or commercial space, wall murals from Nautical Charts Online are easy to customize and order:
Murals can be created from any of our thousands of U.S. Charts
Woven fabric material is highly durable and tear resistant
Adhesive backing allows for easy application (Learn more) onto virtually any smooth, clean surface
Use the selection tool below to start building your mural today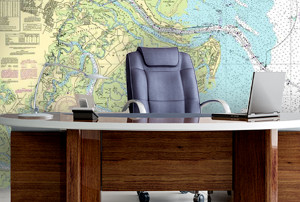 Step 1 of 3: Select Your Mural
Click an area on the map to search for your chart
Select Region to List
Atlantic Coast
Gulf Coast
Pacific Coast
Alaska Coast
Great Lakes


If this text continues to show, your browser is not capable of displaying the maps.